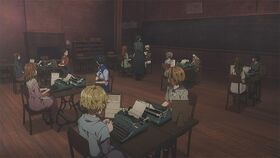 The Auto Memories Doll Training School (自動手記人形育成学校, Jidō Shuki Ningyō Ikusei Gakkō?) is a preparatory school located in Leiden, for women who want to work as an Auto Memories Doll. This serves as some sort of a school which lasts for a couple of weeks, as the students get to polish their skills as a Doll, receives grades and gets to graduate if deemed worthy. The instructor of the school is Rhodanthe.
Background
See also: Leiden's background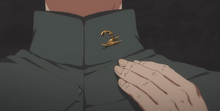 After the war, the demand for Dolls grew rapidly and the writing industry became larger. It is possible to become a Doll without attending the school, but the objective of the school if not just to train any kind of Doll; it is to train the people to become the best Doll one can be. Graduating from the school is a proof of someone who is worthy of the Auto Memories Doll title, and if one manages to graduate, they will also receive a brooch in a proof of excellence. However, it is a strict school with high standards, so if the instructor does not deem someone worthy, they will not be given the certification.
Overview
The classroom lectures were established aiming to train Auto Memories Dolls capable of working in society. They learn grammar and vocabulary, but there are actually curriculums of letter-writing practical study included. Students with excellent marks are gifted with brooches as proof of being "optimal dolls", which is advantageous for their employment.[1]
Known Graduates
Bluebell Junoa
Iberis Konoue
References
↑

Violet Evergarden Starter Book