We're Getting Mutants in the MCU - The Loop
Play Sound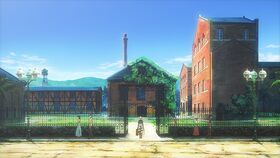 Leiden (ライデン, Raiden?) is the capital state of Leidenschaftlich, located along its south-eastern coast in the southern-middle region of continental Telesis.
Background
Contrary to the North's expectations, the war in which the northern countries of Telsis Continent had abruptly opposed to the southern ones, rich in natural resources and agricultural products, had ended up turning into a large-scale one that involved all of the continent's nations and lasted for too long a period. As a result, each country entered a regime of complete mobilization and the labor force responsible for the national economies drastically diminished. Women were mobilized to make up for it, and the initial focus was on paperwork duties done by volunteers. Since the military was a bureaucratic organization, a large number of documents was required for safe operations, and they were in charge of processing them. However, not only the army, but also other government agencies and private enterprises required document work, so female recruitment was gradually carried out due to the shortage of men everywhere.
As the war prolonged, women's social advancement increased, but the talented ones who received a first-grade education were in high demand, and the need of training in order to match the addition of document work arose in the military. As a result, influential teachers (mainly elderly women) were gathered from all over, and establishments for instituting typing and instructional work for documentation were built within military facilities. Initially, what was done were six weeks of teaching, but the demand for human resources from various places grew to the point that it soon had to be shortened to four weeks, and eventually, two weeks. However, when the war came to an end and the soldiers were dismissed, the mobilization of women gradually receded. Still, the reconstruction business alone required enormous work, and the document work for the dismissals was massive, so women who had jobs at hand were necessary everywhere. Ultimately, the military educational facilities were disposed of to private sectors and combined with the private consignment of national postal businesses, being transformed into Auto Memories Doll Training Schools.[1]
Places
Trivia
"Leiden" without the suffix "-schaft" means "to suffer" in German
References